Saleh Stevens
---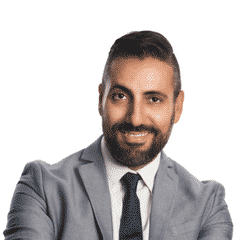 Saleh Stevens is a blockchain technology expert that is also one of the early investors of Bitcoin and Etherium. His skills revolve around web development that many of his clients utilized to revolutionize their online presence. Besides technology, Saleh Stevens is a specialist in many other fields of entrepreneurship. He originally started by learning about the world of business and trades. After getting familiar with the basics, he started making short-term investments in the stock market. Seeing that his capital kept rising, he turned to some opportunities that had a better yield with higher risk. Luckily, those investments paid off. Nowadays, he is mostly consulting other businessmen on how to set their organizations up.
What do you know about the real estate industry?
In words of some of my friends, I know enough to land myself in trouble. Meaning, I understand the basics of acquiring property that will be sold later, preferably for a capital gain. When it comes to the more in-depth terms and concepts, you could say that I only grasp what is necessary for me to succeed. So, while I may understand exactly how property values are related to the economy of an area, I have no clue how certain realtors derive their selling prices in sensitive situations.
Have you ever sold real estate? How did you make it happen?
I sold some land in California at one point. It was a family-owned property that we have been looking to dispose of for a very long time. Lucky for me, land does not depreciate like many other long-term assets. That made this sale pretty straightforward and I was able to get a few buyers who had a bidding war against one another. The outcome? I sold the land for two times its intrinsic value since the bidding war got more heated than I anticipated.
How much experience do you have in buying or selling real estate?
Besides the aforementioned, most of my other knowledge comes from my consulting services to people who were buying and selling properties. I did buy a few different apartments and homes in my life, yet those were mostly used for me to live in. The fact that I understood real estate certainly helped when I had to sell them.
Have you ever made a sell or a purchase you have regretted?
I have not made a real estate purchase or sale that I regretted. I did, however, make countless other purchases that facilitated buyer's remorse. Those mostly relate to cars, computers, and some other personal-use assets.
What advice would you give inexperienced who are wanting to buy or sell?
Buy cheap and try to sell for profit. Also, if you are positive that a certain investment has lost its ability to be profitable, sell it before its value completely plummets. I made a few mistakes where I held an investment for too long. My hope that it will recover eventually led me to a complete loss that could have been partially prevented.
What have you found out to be the best way to market property?
Using established real estate agencies is probably the easiest way. Not to mention that most of them will work for you under a contingency contract where you only pay when they sell or buy.
What tools do you believe are essential for success in the real estate industry?
A good software that can run thorough analyses on the market values based on multiple inputs. You always want to make sure that you have accurate data and that factors like the economy, proximity of schools, crime rates, and more are considered in the calculation of your selling or buying price. Also, online research can be one of the best tools to any newcomer.
What has real estate taught you about life?
It instilled a sense of patience in me. Earning money on a property transaction takes a lot of time and effort. When I was younger, I did not necessarily have that type of time since I wanted everything immediately. Real estate thought me to slow down and let my success come at its own pace.
How can you use what you have learned in real estate to succeed in other areas?
Given that I am a very patient person helps with many other aspects of my life. For one, dealing with clients who need my consulting services is not hard as I can never run out of patience with them. Also, working on marketing campaigns that take a long time to complete got easier as I am not subjected to the "burnout" effect anymore.
Do you have a mentor who taught you what you know?
I do not have a traditional mentor as most of my knowledge came from the internet and courses related to the world of real estate. You could say that some of my professors in the past helped me get to where I am. Calling them a mentor, on the other hand, would be an exaggeration.
Do you have a feedback system? How does it work?
I guess you could call it that. When it comes to my clients, I allow them to rate my services while we work together as well as when we complete our projects. All of their input is submitted to me anonymously so that I would not have an unconscious bias against anybody. There have been a few cases where the feedback really helped me improve and grow as a professional. I will probably look into modernizing this system as there are some adjustments that can streamline it even more.